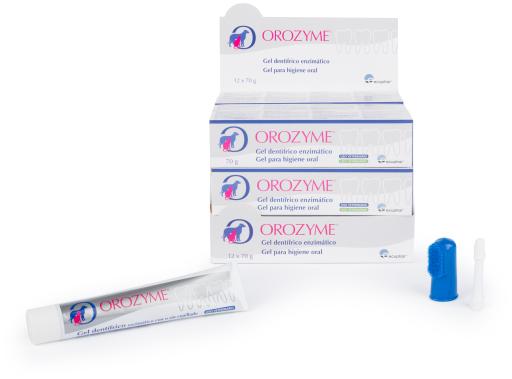 Reviews of Ecuphar Orozyme Toothpaste Gel for Dogs and Cats
Easy to administer, girls like taste. So far so good
this product really works to help soften plaque prior to scaling or brushing.
Producto muy fácil de utilizar, Deja los dientes muy limpios y el busto les gusta mucho a los perros
Buen producto. Recomendable
Es una buena crema dental y si tenis gatos que no se dejan cepillar, se puede aplicar sin cepillado lo cual facilita mucho las cosas. En nuestro caso mi gato si se deja sin problema porque es demasiado bueno. Ya llevamos un tiempo usndola.
extraordinria! As minhas duas cadelitas so loucas pela pasta! Lavar-lhes os dentes um prazer! Tm uma boca impecvel e com bom hlito! Pena o elevado preo!!
Excelente. De acordo com as expectativas.
O Produto foi-me recomendado pela veterinria da minha cadelinha e noto uma grande diferena nos dentes, principalmente os caninos, menos trtaro
Se lo aplico a mis tres gatas todas las noches y les est yendo genial para prevenir el sarro.
Muy recomendable aplicarla por la noche. Tiene sabor a carne por lo que a mis gatas les gusta mucho. Previene sarro futuro en los dientes.
Pasta excelente. Foi-me recomendada pelo veterinrio. C, em casa, uma autntica loucura! As cadelitas adoram-na! Por elas, passavam o dia a colocar a pasta na boca! nico ponto negativo: preo!!
Genial, mas barato que en otros sitios, va soltando el sarro
indicada pelo veterianrio como sendo uma boa pasta para higiene oral da minha patuda, estou a testar.
Bom produto e gosto do desconto que fazem na segunda bisnaga
As minhas cadelitas ADORARAM!! Esto sempre a quere lavar os dentes!! Verdade! O problema o PREO!
La uso con mi perro y mi gato y he notado mucha diferencia
Faz o que promete, j tinha usado com os meus ces. Nada a apontar.
Fiquei contente com o produto os meus gatos adoram.
Apesar do cheiro no ser completamente agradvel funciona muito bem na limpeza e traz bastante quantidade para o preo.
Produto indicado para gatos com gengivite, facil de utilizar, recomendo muito